Materials from TightLinesFlyFishing.com

Hook: Dia Riki 135
Scud, pupa, 1x strong, 1x short.  Sizes 6-22 in quantities of 50.

Thread: UTC 70
Lies flat for less build up on the smallest trout patterns. Great for thread bodied nymphs and midges. Ultra 70 has a breaking strength of approximately 1# and is recommended for size 14-32 flies.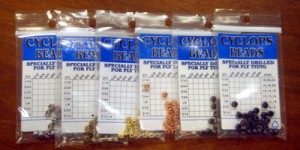 Bead: Brass Fly Tying Bead
Standard fly tying beads in several colors from the normal black to more subtle colors such as brass and brown-olive.  Colors available: Gold, Brass, Copper, Brown-olive, Nickel and Black. 7 sizes available. 24 per pack.

Rib: UTC Ultra Wire
Ultra Wire is a non-tarnishing copper wire. It is available in a tremendous range of colors and sizes. Use Ultra wire for ribbing, weight, flash, wire bodies, and dubbing brushes. Brassie size is perfect for Brassies in sizes 18-22. Extremely popular for fly designer John Barr's Copper John. Available in sizes Small, Brassie and Medium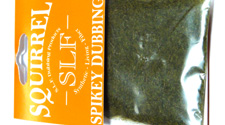 Dubbing: SLF Spiky Squirrel Dubbing
A phenomenal spiky dubbing used for nymphs. Tough to find a better nymph dubbing on the market. Comes in a variety of shades and colors.