Materials from TightLinesFlyFishing.com

Hook: Tiemco 100
Down eye, 1x fine, wide gap, forged, bronze. Quantity of 25

Thread: Uni 8/0 200 yards
Our most popular all around thread for trout flies, salmon & steelhead flies, etc.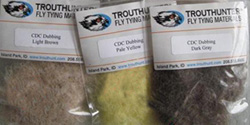 Head: Trout Hunter CDC Dubbing
TroutHunter CDC Dubbing is cut twice and very buggy. Dub by hand or with a dubbing loop.

Shuck: Antron Yarn
Multi trilobal filaments in a single strand yarn with bright highlights. Used for parachutes, overbodies, legs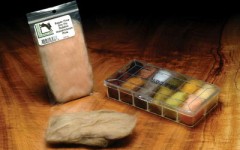 Body: Dubbing – Hareline Super Fine
The finest synthetic dubbing available. Great for small to medium sized nymphs and dries.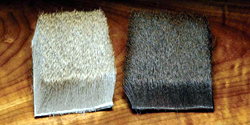 Wing: Stacked Deer Hair – Comparadun Hair
Good comparadun wings can only be tied properly with super fine hair. This hair is the right texture and length to meet your needs.